Westington Quarry fire investigation continue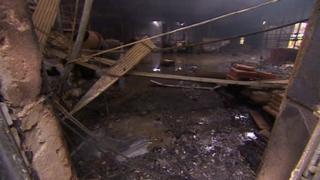 The cause of a major fire at a quarry in the Cotswolds is still being investigated.
More than 70 firefighters tackled the blaze at an industrial unit in Westington Quarry, on Conduit Hill, Chipping Camden, on Saturday.
They were at the scene 11 hours after being called there at about 05:30 GMT.
Derek Cross, area manager with Gloucestershire Fire and Rescue Service, said they were keeping an open mind about the cause of the blaze.
The 100m-long industrial unit contained waste material.
Mr Cross said: "We were assisted by contractors on the site and we've managed to break apart the debris and that's allowed us to put the fire out quite quickly.
"We've left the site now, but we will still be talking to individuals and we will probably be going back for a further look on Monday morning.
"If we need to, we will obviously work closely with the police. At this stage we are keeping an open mind."