Woodchester Park trees felled by National Trust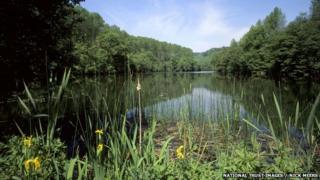 Thousands of trees are being felled as part of restoration work at a tranquil wooded valley in Gloucestershire.
The National Trust is chopping down 2,500 trees at Woodchester Park near Stroud to open up 4.6 hectares of space and improve the surrounding views.
Work has already been done to return 20 hectares of land to grazed pasture, which it is hoped will benefit the area's greater horseshoe bats.
In 1994 the trust acquired the parkland which dates back to the late 1500s.
It said it has been working for 17 years to reduce the area of planted woodland and increase open areas such as pasture and natural landscape.
As a result, the trust expects rare species of bat in the park to increase in number.
Ranger Michelle Oliver said: "The greater horseshoe bat feeds off the invertebrates associated with cattle and sheep, and so providing more land for pasture in turn creates more feeding areas for these rare bats."
Archaeological work is also being carried out by the National Trust on the historic buildings and structures within the park.