Gloucester's Morrisons supermarket opens to public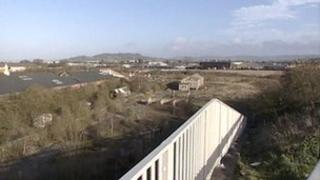 A supermarket which forms the first phase of a £34m scheme to develop a derelict site in Gloucester has opened to the public.
Work began last year on the Morrisons supermarket on the 18-acre site near the railway station, which has been a wasteland for more than 20 years.
Further plans for the railway triangle site include new offices, shops, restaurants and a pub.
The body responsible for the scheme said it had been "a long process".
Chris Oldershaw, chief executive of the Gloucester Heritage Urban Regeneration Company, said: "It's taken about eight years but it's great to see Morrisons opening, and hopefully in the next few years we'll have about 400 or 500 extra jobs coming on the employment side."
Over the years, various schemes have been considered for redeveloping the site, such as plans for a snow dome, an ice rink and a new stadium for Gloucester Rugby - but all have failed.
The first phase of work costing about £8m has seen the new supermarket and access road built, which will provide the infrastructure for the rest of the park.