'Lost' novel by war poet FW Harvey 'a jewel of a find'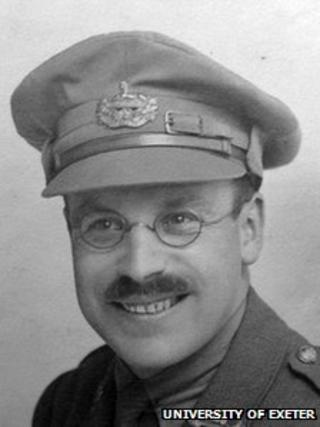 A previously unknown novel by a celebrated World War One poet has been described as a "jewel of a find".
Frederick William Harvey is remembered for his poetry and acts of bravery during the Great War, when he was captured and attempted daring escapes.
The unpublished novel was found among papers at his former home in Gloucestershire after his son's death.
Chair of the FW Harvey Society Roger Deeks said: "Nobody had any idea that this new novel existed."
The novel, entitled Will Harvey - A Romance, follows two brothers from their early days at school through to the trenches.
Mr Deeks said: "It's partly autobiographical and some of it is fictional - but it is a very important document."
'Great acclaim'
Harvey became well known nationally for his poetry - his poem Ducks featured in the BBC's The Nation's 100 Favourite Poems - and for his acts of courage.
In 1916 he was captured and endured a long imprisonment which he later described in his book Comrades in Captivity.
But despite trying to escape numerous times, he only regained his freedom at the war's end.
Mr Deeks said: "He started writing poems and stories for the first trench newspaper, the 5th Gloucester's Gazette.
"They were funny, because what people needed in the trenches was humour, and they got sent home and the Bishop of Gloucester collected these poems and sent them to a publisher.
"And when he [Harvey] was captured he started writing poems in the prisoner camps, which again were sent home and published to great acclaim."
Among the collection of papers - archived by Gloucestershire Archives and the University of Exeter - were textbooks bearing the stamps of the German censor, in which Harvey wrote the first drafts of his prisoner poems, as well as lifelong correspondence with his old comrades.
There were also numerous letters from POWs who read his work and wrote to him about their own experiences of the war.
The semi-autobiographical novel, along with other lost papers, have gone on public display in the Gloucestershire Archives in Gloucester.