Forest of Dean war memorial theft before Remembrance Sunday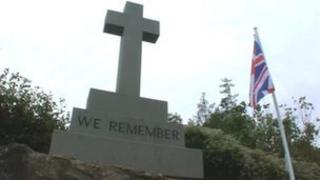 The theft of a union jack, flag pole and wreaths from a war memorial has upset Forest of Dean church members.
Police are investigating the theft just days before a Remembrance Sunday ceremony is due to take place at the Holy Trinity Church site in Drybrook.
Church warden Mike Garland said: "I can't believe that anybody would have the audacity to remove a flag pole at a war memorial. It's very sad indeed."
It is expected to cost the church £45 to replace the 20ft (6m) flag pole.
'Very upset'
The church has said the flag and wreaths would be replaced in time for Sunday's service.
"A lot of people, the Royal British Legion and our church rector are all very upset to think that somebody could do this," added Mr Garland.
Rather than concreting the flag pole into the ground, it sat in a 2ft-deep (0.6m) socket.
This allowed for the aluminium pole to be removed and laid flat during high winds.