A417 deaths: Transport secretary to meet Gloucestershire MPs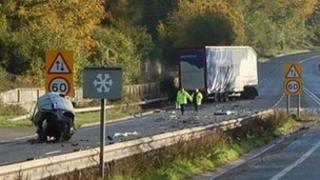 A minister has agreed to meet local MPs over a "road to hell" where three people were killed this week.
The three were killed in two separate crashes on Monday near the Air Balloon roundabout on the A417 in Gloucestershire.
Transport Secretary Patrick McLoughlin said he would meet the local MPs in "coming weeks".
Gloucestershire County Council has said the Highways Agency has "dragged its heels for too long" over the problems.
'Rapid action'
The two fatal collisions prompted the authority's leader, Mark Hawthorne, to write to the government calling for urgent action to address the "dangerous" road.
Politicians have been lobbying the government since the 1990s to improve the carriageway, in particular the multiple pinch-points where the dual carriageway becomes a single carriageway.
The stretch of A417 between Brockworth and Cowley is notorious for congestion, air pollution and high accident rates.
A date has not yet been set for the meeting but Mr Hawthorne said he was pleased with the quick response and "rapid action" was now needed from the government to improve the road.
Cotswolds MP Geoffrey Clifton-Brown, who will also attend the meeting, said he hoped for prompt action "to address the dangerous 'missing link' single carriageway".
More than 33,000 vehicles use this section of the A417 every day - 14% of which are HGVs - according to GFirst, the county's local enterprise partnership.
It has been dubbed "the road to hell" by Liberal Democrat councillor for the area, Paul Hodgkinson, who believes radical action is needed to rid the area of accidents, pollution and congestion "once and for all".