Gloucestershire housing need 'hugely overestimated'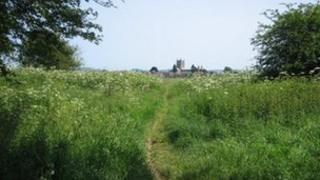 Campaigners opposed to plans for 33,000 new homes in north Gloucestershire say the councils concerned have "hugely overestimated" the demand.
Local authorities in Cheltenham, Gloucester and Tewkesbury propose to build the houses over the next 20 years.
Save the Countryside said there was a "blatant determination" to build on greenfield land over brownfield sites.
The group urged people to air their views at a public consultation.
The plans will go on display in Uckington on Monday.
Helen Wells from Save the Countryside said: "If there is an absolutely proven need if we have run out of houses and brownfield sites, we should think about building on greenbelt land.
"But that is clearly not the case as the council has hugely overestimated everything."
'Identified need'
Save the Countryside says the plan will ruin the countryside - especially if homes get built at Swindon Village, Leckhampton and Up Hatherley.
The government will make the final decision in July next year, with the plan due to be adopted in August.
Holly Jones from Tewkesbury Borough Council said: "The [plan] is based around meeting identified housing and employment need closest to where they are generated, and where they can most easily benefit from existing facilities and infrastructure.
"This means focussing development at Cheltenham and Gloucester using existing capacity, including brownfield sites and planning permissions that already exist.
"However, this alone doesn't provide for the level of development required so the next step is to consider extending urban areas, which has required us to look at green belt land."