Separate crashes on A417 near Gloucester kill three people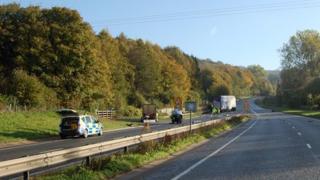 Three people have been killed in two separate crashes on a commuter route in Gloucestershire.
A 54-year-old man from Cheltenham died in a crash involving a lorry and a car on the A417 Crickley Hill at about 03:10 GMT, police said.
Two elderly women were killed when a car they were in collided with an HGV on the same road near the B4070 junction at about 11:35.
Both lorry drivers were uninjured, police added.
Both routes have since reopened.
Gloucestershire Police said the driver of a Ford Focus died in a head-on collision with an HGV near Little Witcombe, in the first crash.
He was pronounced dead at the scene.
Police said the women involved in the second crash did not live in the county and family liaison officers were on their way to speak to the families.
The A417 connects the M4 and the M5, between Gloucester and Swindon, and is used by about 30,000 vehicles each day.