Bromesberrow Heath community shop open for business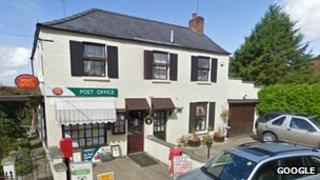 Residents in a Gloucestershire village have opened a community shop after the owners of the local store and post office announced their retirement.
Villagers in Bromesberrow Heath raised tens of thousands pounds through donations to keep the shop going.
The unit where the shop is based was donated by a local businessman, who offered it for free for the first six months to help them get started.
The Shop, as it will be called, is located on a nearby business park.
'Marvellous team'
At least five people pledged £10,000 each and many of the fixtures, fittings and stock were also donated. Villagers have spent the past few weeks working on converting the new premises.
Volunteer Jan Long, said: "We've had a donation of £5,000, another of £10,000 and this has been the seed capital to kick-start the project.
"We've got a marvellous team of volunteers who have been working most of the day everyday for the last few months."
David Rees, who donated the unit, said: "I've owned the property since 1975, so that's about 38 years, so I know a lot of people in the village and I'm only too pleased."
The volunteers hope to expand the business in the future with plans to open a cafe, receive weekly fresh fish deliveries and host craft fairs.