Minority 'back Cheltenham traffic changes'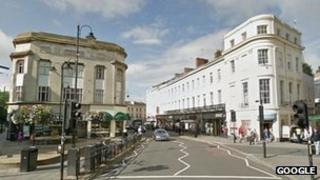 Less than half of those questioned over plans to improve Cheltenham's one-way system are fully behind the plans.
A number of ideas are being discussed to make it easier for people and traffic to move around the town centre.
Results from a public consultation suggest 44% would support the plans, with an additional 28% saying yes but with reservations.
More than 17,000 questionnaires were sent out to the town's residents, with 1,496 returned.
A total of 409 responses (27%) were given by people who are not in support of the plans.
The ideas include restoring two-way traffic to part of the town's one-way system, as well as restricting use of the road passing Boots corner to buses and bikes only.
The main reservation given during the consultation was about increased traffic congestion in some areas, with people also concerned about buses, taxis and deliveries in traffic free zones.
Some 1,200 people have also signed a petition against the plans, which has prompted a full council debate to be held on 18 November.
Gloucestershire County Council and Cheltenham Borough Council are working together on the project, which would be funded through money already raised through government grants and the sale of council land.