Derailment near Gloucester 'on track with defect'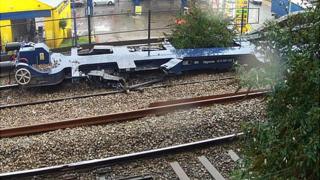 A freight train that derailed near to Gloucester railway station was travelling at high speed on track with a minor defect, a report has shown.
The Rail Accident Investigation Branch (RAIB) is investigating the incident which happened on 15 October.
The line was closed for three days while a container that fell off a wagon was recovered and the track repaired.
The RAIB said the train had travelled for more than four miles before the driver realised anything was wrong.
The train, which had come from Newport via Lydney, was travelling at about 69mph (111km/h) when the rear axle of the rear wagon derailed about 4 miles (6.5 km) from Gloucester, the RAIB said.
Both wheel sets were torn from the rear bogie and the empty container on the rear wagon was thrown off.
The maximum permitted speed for the train on the section of track was 75mph (121km/h), the RAIB said.
A spokesman said there were evenly spaced dips in the rails which resulted in regular variations in the vertical height of the track - a phenomenon known as cyclic top.
A full investigation will consider how the track was maintained and why the train was allowed to run at a high speed over this section, the spokesman added.
The inquiry will also consider the design of the wagon and why the container fell off it.
A spokesman for Network Rail said time was needed to digest the report, and it was too early to comment on it.
Two sets of points, 300 sleepers, two miles of cable and a level crossing had to be replaced after the derailment. No one was injured.