Forest of Dean landslip road 'hit firms financially'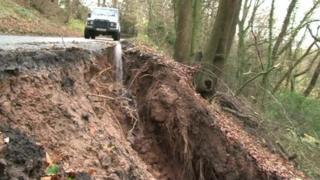 Firms in the Forest of Dean say they are suffering financially due to a road which was closed almost a year ago.
Locals have been unable to use the busy commuter route from Drybrook to Ross-on-Wye since November 2012 after wet weather caused a landslip.
Residents in Drybrook and Cinderford are now calling for Gloucestershire Highways to speed up repairs.
Gloucestershire Highways said it sympathised with residents but added the situation was "challenging".
Helen Russell, the landlady at The Wonkey Donkey pub, said what is normally a half mile journey is now a six-and-a-half mile round trip.
On Thursday night the pub took £3 - normally it takes about £100.
"It's taking people a lot longer to get here, so they're not coming," she added.
"We're sitting here with one or two people during the evening and it's affecting us really badly.
"So we're really thinking is it worth being open?"
Trevor Griffiths, who owns Overbrook Recovery Service, said: "They want to pull their finger out. All they've been doing for the last 12 months is giving all of us the run around.
"It's about time they stopped and got the road open."
Brian Watkins, local highways manager, said it was a "challenging situation" and they understood the problems it has caused to residents and businesses.
He said: "The full geological survey of the site is now complete and we are finalising plans for the work to reinstate the road and get it open."
Mr Watkins added that the local community would be updated with the latest progress of the repair work next week.