MEP calls for government action over 'road to hell'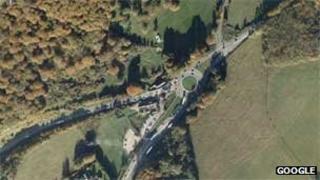 People living near a notorious crash site in the Cotswolds are backing fresh calls by one of Gloucestershire's MEPs for urgent action.
Liberal Democrat Sir Graham Watson has visited the Air Balloon roundabout near Birdlip, saying he wanted to see the issues for himself.
He told residents levels of pollution and congestion were unacceptable.
Sir Graham was invited to the site by councillor Paul Hodgkinson, whose ward the roundabout is in.
Mr Hodgkinson, leader of the Liberal Democrat group on Cotswold District Council, said it was a "road to hell" that needed to be fixed.
"This blot on the local economy is costing companies and individuals money and time. Only a proper solution will do," he added.
"Residents have been asking for a tunnel or dual carriageway linking Brimpsfield to Brockworth for years but their plea has fallen on deaf ears."
'No magic wand'
Myra Sefton, who has lived in the area for 25 years, said the situation was so "intolerable" that residents could not even sit outside.
"You just can't sit out in the garden, you can't open the windows - life is hell," she added.
"It's got to be dual carriageway all the way from the M5 to the M4. Simple. I want to move but can't because I can't sell my house."
In 2008, Cotswold District Council made an Air Quality Management Area Order because the nitrogen (NO2) levels at the Air Balloon roundabout exceeded the recommended thresholds.
An action plan was published following the 2011 consultation but the authority emphasised that it was not ultimately responsible for the management of the highway network.
"I think sadly there is no magic wand but I hope we can get the government to recognise that this is not simply a local issue," Sir Graham added.
"This has become the road from hell as a result of traffic growth since [it opened] in 1997 and needs to be looked at strategically as part of the UK's transport network."
Sir Graham said there was very little money available from the European Union for road building but it "wasn't impossible" if the project received support from a national government.
"We've got to be prepared to modernise Britain's infrastructure to bring it up to date," he added.
A Department for Transport spokesperson said: "The government has already allocated £28bn to improve our road network for projects up to 2020-2021.
"There are a number of funding options available for local authorities, but it is up to them to make the case for future investment for the Air Balloon roundabout."
The Highways Agency said it is continuing to work with Gloucestershire County Council and other groups to investigate options to improve traffic flow at the Air Balloon roundabout.