Spider outbreak school in Forest of Dean defends closure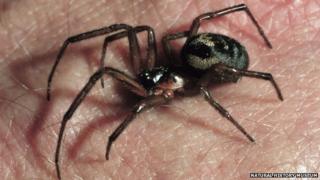 Staff at a school in Gloucestershire that became infested with venomous spiders have denied they overreacted by closing for a day.
Pest controllers were called in to fumigate The Dean Academy in the Forest of Dean on Wednesday after false widow spiders were found earlier in the week.
Some people have criticised the closure, saying the creature's bite is not serious.
A spokesman said the school had taken advice from environmental health.
Finger tingling
The school's education adviser, Phil Lomax, said: "We haven't overreacted at all.
"When there's infestation of any kind in a school building it's important to take careful consideration of risk to health and well-being.
"In this particular case, with the advice from environmental health, a quick fumigation allowing the fumes to clear and [get] back to normal was the best solution.
"You can't actually know whether some students may be more susceptible to bites, stings from wasps, spiders or any other [bugs] either, so I think we've taken a balanced view here in the best interests of students."
Some parents told the BBC they thought it had been wrong for the whole school to be shut while the problem was dealt with.
Entomologist Steven Falk said: "[The noble false widow] has got a toxic bite but the bite is on a par with a honey-bee sting.
"They're nowhere near as dangerous as the media is making out, so we're a little bit surprised [that the school was closed]."
There were no reports of anyone being bitten by the arachnids, and the school reopened as normal on Thursday after Wednesday's fumigation.
The false widow (Steatoda nobilis) is about the size of a 50p coin and is the most venomous of the dozen or so species of biting spider known in Britain.
Its bite can cause severe swelling, chest pains and tingling of fingers.