False widow spider 'outbreak' school to reopen after fumigation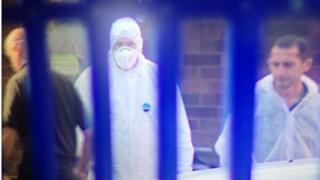 A school which was forced to close due to an outbreak of Britain's most venomous spider has said it will reopen as normal on Thursday.
Pest controllers were called in to fumigate The Dean Academy in the Forest of Dean after an infestation of false widow spiders were found on Monday.
There have been no reports of anyone being bitten by the creatures.
Conservationists believe a change in the climate could be the cause of a rise in the sightings of the species.
The academy's vice-principal Craig Burns said it was initially thought they were confined to the ICT block but more were then found in other parts of the school.
He said: "Unfortunately during the afternoon more false widow spiders were identified in other areas of the academy.
"The health and safety of our students, colleagues and visitors to the school is our first priority and closing the school for the day will allow the pest control to clear the spiders to ensure they do not pose a risk to anyone."
He apologised for the inconvenience and said they would be texting parents to remind them the school would be open on Thursday.
The false widow (Steatoda nobilis) is about the size of a 50p coin and is the most dangerous of the 12 species of biting spider known in Britain.
There have been no reported deaths from its bite in the UK.
Symptoms can include severe swelling, chest pains and tingling of fingers, with the severity depending on the amount of venom injected.