Kingsway Village car parking: Residents in dispute over spaces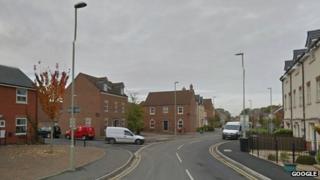 Tempers have flared on a housing estate because of a shortage of spaces, according to residents.
Some residents of Kingsway Village near Gloucester have started to put out cones to save spaces.
The residents association said the majority of disputes police were called out to related to parking.
Gloucestershire Police said some residents had become frustrated, but officers could only take action when a car was parked dangerously.
Clive Barton from Kingsway Village Residents' Association said: "The majority of issues the police have had in Kingsway over recent months have been surrounding anti-social behaviour, mainly rows over people parking in places where other people didn't like it.
"The planning was to blame, in my opinion. What made the council think that giving one parking space per household was going to stop people from needing two cars per household?"
'Dangerous parking'
A spokesman for Gloucestershire Police said officers were aware of concerns about parking and that residents had become "frustrated with inconsiderate motorists".
"However, we can only take action where a car is parked dangerously, so we advised residents at the meeting that sending a letter to highlight the issue to the city council could be beneficial.
"Our main area of concern is dangerous parking at Kingsway School and this is something we are focusing patrols on at the start and end of the school day," he said.
Neil Troughton from Gloucestershire County Council said: "When development at Kingsway was first agreed in 2003, government requirements were that only 1.5 parking spaces were allowed per house. That included a garage as a parking space.
"This policy of restricting parking spaces is no longer in force and new development must now provide sufficient car parking to accommodate the local demand.
"We are working with developers on these older sites, including Kingsway, to re-assess parking and identify where more on-street or off-street communal parking spaces can be safely provided."