Gloucester Islam event to help community understanding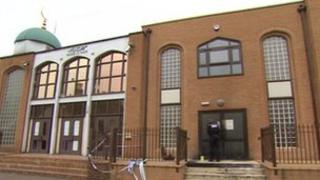 A meeting to help communities understand each other's faith and culture is taking place in Gloucester after an arson attack on a city mosque.
Engaging with Islam was set up by St James' and Christ Church after the attack in June, to invite other faiths to meet the city's Muslim community.
Sheriff and deputy mayor Said Hansdot said he hoped it would create "more understanding".
The event takes place at St James' in Tredworth between 10:00 and 16:00 BST.
Gloucester mosque was attacked by two men on 18 June who pleaded guilty to setting it on fire - they are due to be sentenced in November.
Mr Hansdot said: "Until what happened a few months ago, we had thought we were doing a great job in engaging with the community but obviously a lot of work still needs to be done."
Mr Hansdot, who is the first Muslim sheriff of Gloucester, added: "In my role as the sheriff of Gloucester, I'm taking that duty very seriously.
"I do go to other churches, cathedrals and temples with other religious faiths as well.
"I do engage with these communities, just to show them that 'look I am one of you and I am here to represent you as well'."