Derailed railway wagon removed from tracks near Gloucester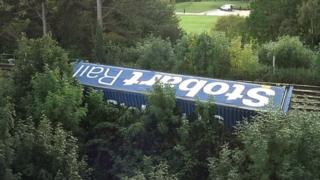 A derailed railway wagon which was blocking the track between Gloucester and Lydney has been cut up and removed from the site.
Engineers worked overnight to remove the empty container, after a freight train came off the tracks west of Gloucester station on Tuesday evening.
Network Rail said 1,300 yds (1.2 km) track will have to be replaced before the line can be reopened.
Repairs are due to be carried out on Friday and overnight until Saturday.
A spokesman said two sets of points, 300 sleepers, two miles of cable and a level crossing will also have to be replaced.
Until the repairs are completed passengers between Gloucester and Cardiff are being diverted via Bristol and a replacement bus service is running between Gloucester and Lydney.
A spokesperson for freight operating company Direct Rail Services apologised "to any passengers who have suffered disruption".
Nobody was injured in the derailment. An investigation into the cause of it has begun.