Coroner Alan Crickmore guilty of stealing from dead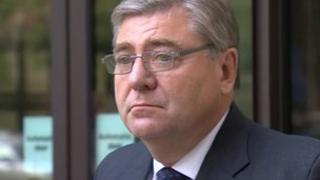 A coroner has pleaded guilty to a £2m fraud that saw him steal some of the money from the estates of dead people.
Gloucestershire coroner Alan Crickmore, 57, of East Approach Drive, Cheltenham pleaded guilty to 24 counts of fraud at Southwark Crown Court.
Police said Crickmore had been stealing money while acting as probate and using the cash as his own "piggy bank".
Crickmore was bailed and electronically tagged ahead of a sentencing hearing on 28 November.
The guilty plea followed a police inquiry into alleged breaches of the solicitors' code of conduct and accounting rules.
He was suspended from his post in December 2010 and has now resigned.
Alan C Crickmore Solicitors, which had an office in Cheltenham, was closed down by the Solicitors Regulation Authority in December 2010.
An authority spokesman said it was likely Crickmore would face a tribunal over his actions.
He said a final decision would be made after Crickmore was sentenced.
'Fine dining'
Det Ch Insp Dave Sellwood said Crickmore's plea came after being "faced with overwhelming evidence".
The coroner stole some of the money after gaining power of attorney for elderly people who had "lost their mental capacity".
"[Crickmore] stole what he wanted when he wanted," said Det Ch Insp Sellwood.
"He was propping up a lifestyle he couldn't afford - regular cruises, fine dining, various holidays, buying a house in the country.
"By many standards that would be considered to be living quite a high lifestyle and he could only fund that lifestyle by stealing from his clients.
"He was brought in to deal with probate and to wind up estates and, rather than give all of the monies to beneficiaries, he stole some of the monies from what would have been the beneficiaries."
Councillor Will Windsor-Clive, from Gloucestershire County Council, said the case had been "really frustrating" while they waited for it to come to court.
"While we run the coroner's service in the county, we don't employ the coroner and only the Lord Chancellor can dismiss him. As a result we've had no power to take action.
"Mr Crickmore has offered his resignation and I hope we can now move forward."