Wild boar cull in Forest of Dean 'not killing enough'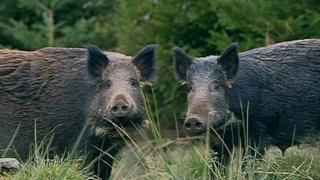 People living in a hamlet in the Forest of Dean have claimed not enough wild boar are being culled.
Residents of Moseley Green, near Parkend, say the animals regularly ruin grass verges by foraging for food.
The Forestry Commission acknowledged there could be more of the animals than a recent survey suggested.
A cull by the commission began last month in an attempt to keep numbers down to 400 as part of a three-year management plan.
Locals claim estimates of 535 for the boar population was inaccurate and far more than the target of 135 animals need to be killed to reach that figure.
Martin Roach, landlord of The Rising Sun pub, said he had spent thousands of pounds making the pub an "attractive venue" but the wild boars were causing damage.
"I've got damage all up the driveway," he said.
"We all like the countryside, we all like the forest, we all like the boar, but in their place.
"It's got too much. We've got too many of them."
'Viable population'
Resident Clive Skinner said: "A couple of months ago I was able to repair the damage on a daily basis.
"We're at the stage now that it's major, major work to do the repairs."
Earlier this year the Forestry Commission said a living population of 400 wild boar in the area had been agreed.
It said there was an estimated population of 535 animals, meaning 135 would have to be culled before next February.
Kevin Stannard from the commission said: "That figure is a minimum. We still think there are over 700 or 800 animals in the forest.
"If we can bring that level back down to 400 that should be a good compromise for the animal welfare groups to see that we've got a sound, viable population.
"But also for those who visit and use the forest to show we are managing the population and keeping it under control at a level that everyone can live with."