Horse 'dumped with horrific leg injury' in Gloucester field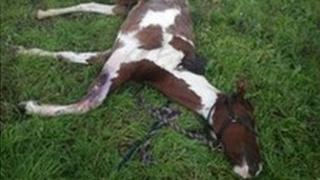 A young horse has been put down after being dumped in a field with a "horrific leg injury".
The colt was found collapsed off Naas Lane, Brookthorpe, Gloucester. It is not known how long he had been there.
An inspector said the horse had a large wound to his upper right foreleg and a broken elbow. The hoof on his right hind leg was also coming away.
A vet said there was "no alternative" but to put him to sleep at the scene due to his injuries and poor condition.
'Terrible pain'
The horse, a skewbald yearling, was not microchipped. All horses have to be have a passport and be microchipped under the law.
RSPCA inspector Suzi Smith said the horse would have been in "indescribable" pain.
"The laws around equine identification need tightening to stop these sort of incidents," Ms Smith said. "People should not be allowed to get away with causing suffering to animals and then leaving them in terrible pain.
"The only comfort I can take from this incident is that the horse at least knew kindness at the end of his short life and that he is no longer suffering."
The charity is asking anyone with any information about the horse's owner to come forward.