King's Stanley school parents petition over Ofsted rating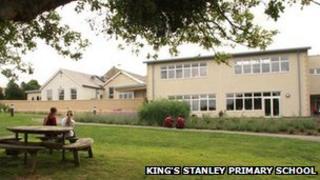 More than 1,100 people have signed a petition against a decision to put a Gloucestershire primary school into special measures.
It is part of an on-going campaign by parents at King's Stanley Primary near Stroud who believe the "inadequate" rating by Ofsted is inaccurate.
A council debate has been triggered by the petition, organised because parents fear the school may become an academy.
Ofsted said it understood concerns but its report was "based on evidence".
An action group, Save King's Stanley (SKS), was set up after claims from parents the inspection, which took place five months ago, had a political agenda.
The group are concerned the Ofsted rating was engineered to convert the school into an academy.
'Unfair reflection'
SKS said results across almost all of the tested areas had improved year-on-year for three years, demonstrating the school was very good.
The previous Ofsted report, in 2009, had rated the school as "outstanding".
SKS chairman Alan Bladon said: "It does not fairly reflect the school.
"We see this as a blatant attempt to try to convert the school to an academy by the Department for Education.
"We're looking to our local council to stand up and share our voice and say we will not be forced into this position by central government.
"We know what's right for our community and we know what's right for our kids - not Michael Gove."
'Objective is quality'
An Ofsted spokesman said: "While we recognise parents' concern, Ofsted reports on the evidence that we find.
"Our overall objective is to ensure that all children, regardless of whether they attend an academy, free school or maintained school, have access to a good quality education."
Ofsted said the school's progress would be monitored over the next two years and reported back to parents.
The petition has triggered a 15 minute debate at Stroud District Council where protesters will ask for support from the authority.