No further action in Cotswold Water park 'corruption' inquiry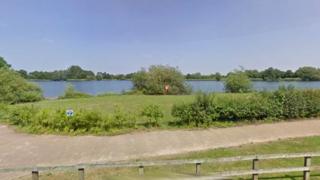 An investigation into alleged corruption at Cotswold Water Park Society has recommended no further action should be taken.
Former chief executive Dennis Grant was jailed for a £650,000 fraud in 2011 and a review of the case was launched by City of London police.
Gloucestershire Police asked the London force for an "impartial perspective".
City of London officers said there was "no compelling evidence" to support allegations about any other officials.
Grant admitted diverting money for the water park into his own bank account and pleaded guilty to six charges of fraud.
In 2012, he was ordered to repay £319,000 under the Proceeds of Crime Act or face another three years in prison.
After Grant was jailed, further allegations were made about fraudulent activity at the water park.
The Cotswold Water Park is on the Wiltshire-Gloucestershire border and is made up of 150 lakes which were created through gravel extraction.
Fraud and corruption
It is now run by the charity - the Cotswold Water Park Trust - which took over from the Cotswold Water Park Society Limited in March 2011.
Assistant Chief Constable Richard Berry said the review had "confirmed" the outcome of their original investigation.
"We take allegations made to us very seriously. In this case, we investigated the initial claims," he said.
"To gain an impartial perspective on our investigation, we asked the City of London Police - who are very experienced in fraud and corruption enquiries - to review it.
"That City of London Police inquiry was passed to the CPS for review. The CPS confirmed that the inquiry had not omitted any significant areas and that there are no further lines of enquiry to take.
"We consider that the matter is now at a close."
Councillor Mark Hawthorne, leader of Gloucestershire County Council, said the report "firmly draws a line under the Cotswold Water Park scandal".
"This issue has been given the serious consideration it deserved, and I welcome the clear conclusion that there are no other lines of enquiry to pursue," he added.