Roundabout bottleneck in Gloucester to be eased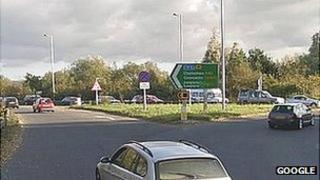 Congestion on the A40 near the Forest of Dean in Gloucestershire is to be eased using government funding.
The £200,000 project to improve the busy Over roundabout has been financed by the Department for Transport as part of its Pinch Point scheme.
Work will include widening the approach to the junction from the west and the carriageway on the north side, with a dedicated right turn lane added.
The project is due to begin next summer and be completed within two months.
The Highways Agency (HA) described the roundabout as the "primary point of entry" into Gloucester for vehicles travelling from the west.
'Main constriction'
But Dave Sledge, from the HA, said it was the "spout of a funnel" and the "main constriction" on the A40.
"Over Roundabout is the pinch point and needs the improving," he said.
"So we're going to widen the approaches and will work with Gloucestershire County Council to make sure we're not just moving that traffic from one point to another point."
The cash is part of £165m of Government funding announced to tackle traffic bottlenecks in England.