Crystal Fountain Retirement village in Woodchester bought by residents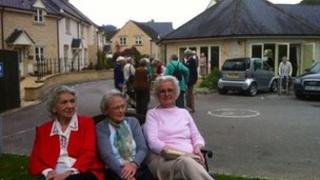 A group of elderly people have bought their retirement community, creating what is thought to be the UK's first mutual village for the over 60s.
The previous owners of the Crystal Fountain complex at Woodchester in the Cotswolds, Bluchie Ltd, went in to administration three years ago.
A bid for the village freehold required leaseholders to each pay about £30,000.
"The important thing is we're pioneers, we're going to run the village for ourselves," said resident Peter Wilson.
Care needs
A new firm, Woodchester Valley Freehold, has been created to take over the village and run it on a not-for-profit basis.
About 55 leaseholders each paid more than £30,000 to raise almost £2m to buy the freehold.
It contains 69 properties although some homes are currently empty as fewer than 50 residents live there at present.
"The community here has created the first UK mutual freehold village for the over 60s," said Mr Wilson, chairman of the residents' association.
"It couldn't have been done if the families had not been with us."
A care home on the site, which closed in 2007, has been converted into 12 flats, which form part of the freehold.
Resident Ann Dickenson said people have been anxious about the future.
"Now we're in control of it and we can make the future what we want it to be," she said.