Badger cull: Marksman's ammunition found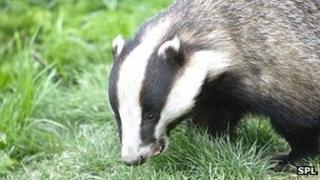 Part of a marksman's licence allowing him to shoot badgers in the Gloucestershire cull zone has been revoked after he lost a box of ammunition.
A member of the public found the 16 cartridges of live ammunition in a box on a footpath and handed it in to police.
A Gloucestershire Constabulary spokesperson said there was no "specific criminal offence" and the ammunition owner had seven days to report a loss.
Four protesters arrested earlier in the cull zone have been released.
'Injunction breached'
The group included a 14-year-old girl and a woman, 44, both from Didcot in Oxfordshire, who were arrested along with a 25-year-old man of no fixed abode on suspicion of aggravated trespass.
They have been released on police bail pending further investigations.
A 37-year-old woman from Coventry, who was arrested on suspicion of breaching an injunction, has been bailed to appear in court next month.
A condition of her bail means she is not allowed to go within 35 km (20 miles) of Newent near Gloucester.
The force has made 18 arrests in total as part of its badger cull response.
The six-week pilot cull in Somerset and Gloucestershire aims to kill about 5,000 badgers to test whether culling can be carried out in a safe, humane and effective way.
Opponents have fought the pilot cull, which they argue is inhumane and ineffective in its goal of tackling bovine TB.
No details on the total number of badgers shot have yet been released.