Badger cull: Gloucestershire Police arrest 14-year-old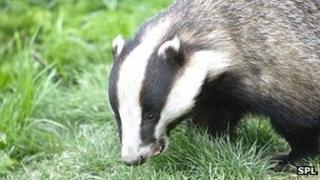 A 14-year-old girl is among a group of four people who have been arrested in the Gloucestershire badger cull zone.
The teenager from Didcot, Oxfordshire, was arrested on suspicion of aggravated trespass in the Tibberton area, along with a woman, 44, and 25-year-old man.
Gloucestershire Police said reports of excessive noise had also led to the arrest of a Coventry woman, 37, on suspicion of breach of an injunction.
The force has made 18 arrests in total as part of its badger cull response.
Ammunition found
All four remain in police custody.
The discovery, by a member of the public, of a box containing 16 cartridges of live ammunition on a footpath is also being investigated by police.
Ch Supt Gary Thompson said: "We're really grateful to those who handed in the ammunition.
"We are making inquiries into who left it there and will take appropriate action as soon as we can identify the person."
The six-week pilot cull in Somerset and Gloucestershire aims to kill about 5,000 badgers to test whether culling can be carried out in a safe, humane and effective way.
Opponents have fought the pilot cull which they argue is inhumane and ineffective in its goal of tackling bovine TB.
No details on the total number of badgers shot have yet been released.