Stow Fair may move to new location if site sold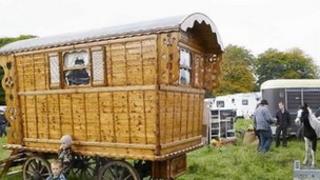 A 537-year-old Cotswolds horse fair may have to move, if the current site it occupies is sold.
Stow-on-the-Wold's Horse Fair, which has taken place in the town biannually since 1476, attracts hundreds of visitors from all over England.
Its site in a field near Maugersbury Road, is being sold to developers, who plan to build a new medical centre, five houses and a 300 space car park.
The next fair, on 24 October, is expected to be the last on the site.
The fair is considered one of the biggest events in the Gypsy and traveller calendar and sees hundreds of horses paraded and sold.
Stabbing incident
Conservative MP for the Cotswolds, Geoffrey Clifton Brown said he thinks the fair will continue "in one guise or another" and said he welcomed a relocation of the event away from the town.
"I suspect holding it a little further away from Stow would probably be a good thing," he said.
The fair has drawn criticism in the past, after incidents of theft and vandalism, and a man was stabbed at the event, in May 2010.
Joe Jones, of the Gypsy Council, was unable to confirm that a new site outside the town had been secured, but said an ancient charter decrees the event must be held within the town twice a year.
"For many years they've wanted this fair closed, but if it's not within the boundaries of Stow there is a possibility of losing that charter," he said.
Stow Surgery, which is working with JRN Properties Ltd on the proposed development at the fair's current site said the purchase of the land is dependent on achieving satisfactory planning permission from Cotswold District Council.