Urban gull research is key to managing population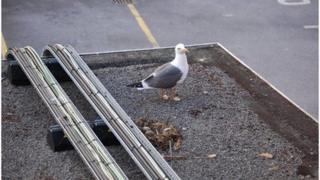 As Gloucester tries to solve its continuing problem with urban gulls an expert has said more research is the "key to sensible management".
About 100 businesses are being given gull-proof sacks to prevent food waste being strewn over city streets.
Peter Rock said: "We can try all sorts of ideas - but we need to know the detail of what we're talking about."
The council said a trial of the sacks had "noticeably improved cleanliness".
'Successful birds'
Urban gull expert Mr Rock, who has been studying the birds for 30 years, said he had been to Gloucester twice in June and July and had put rings on "more nestlings than ever" in the city.
He said the breeding season had been "outstandingly successful" despite the nearby landfill site at Hempsted being closed to gulls.
He said: "We just don't know enough about why these birds are so successful and understanding that will be key to sensible management."
Mr Rock said he had counted 2,900 pairs in Gloucester, 2,500 pairs in Bristol, 1,100 pairs in Bath and 3,300 pairs in Cardiff - and that his research showed Gloucester was "not only importing birds but exporting them too".
He said he had evidence that gulls from Gloucester were now breeding in Bath, Bristol and Leicestershire.
Gloucester City Council have made several attempts, over the years, to solve the problem.
Potential solutions have ranged from signs asking people not to feed the birds to applying a gel repellent designed to deter the birds from roosting and nesting.
Councillor Sajid Patel said: "The introduction of the hessian bags for trade waste is just one of the ways the city council and its partners are working to reduce the food source available to gulls in the city.
"This is being carried out alongside an extended egg treatment programme and extensive work carried out at the landfill site to help reduce the numbers."
He said the council would continue to monitor nesting hotspots and was operating a targeted egg treatment programme.
They were also considering introducing netting on more rooftops.
Bath Lib Dem MP Don Foster has been lobbying the government for the past five years, for a research fund to look at urban gull populations in the UK.
Mr Foster met Defra officials three months ago to discuss the issue but said he had not yet had a response, making him "deeply frustrated".
He said: "I am still awaiting a reply from the scientific advisor at Defra as to whether or not they will specify the research requirement and act as the reception of funding from interested local authorities."