South Korea seeds will 'help arboretum understand ash dieback'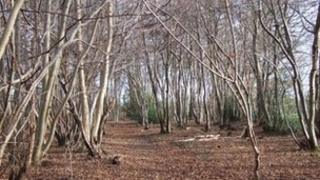 A trip to South Korea to collect seeds for new trees at Westonbirt Arboretum at Tetbury could enhance understanding of ash dieback, its director has said.
Simon Toomer said that while not the intention of the trip, expanding the ash collection would help show which trees resist the disease.
According to new figures, ash dieback is spreading rapidly in Britain and has been found in more than 200 woods.
Arborist Tomas Dewey will take part in the nine-day trip.
He will travel with staff from the Forestry Commission's National Pinetum at Bedgebury, and staff from Wakehurst Place - home to Kew's Millennium Seed Bank - where some of the collected seed will also be deposited.
Special permission needed to be obtained to collect these seeds.
Mr Toomer said the chance of gaining any insight into Chalara [ash dieback] "supports the general arboretum role in being a reference collection of trees and shrubs".
He added: "A small part is understanding of disease. One thing people are interested in is the genetic resistance or susceptibility to disease.
"Over the next few years, it will be interesting to see which are more or less resistant."
Some 16,000 trees populate the 243 hectare (600 acres) arboretum near Tetbury, featuring 2,500 different species from across the world - including 40 ash species.