Gloucester: Southgate's historic character is restored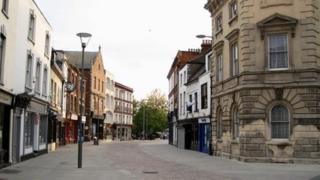 Architectural features in part of Gloucester city centre are set to be restored with Heritage Lottery funding.
The £897,000 grant will be used along with £300,000 from Gloucester City Council to improve Southgate Street.
Councillor Paul James said: "It is important we make a collective effort to improve its appearance."
Many of the buildings are listed and date back to the 19th Century when Gloucester Docks started to grow into a busy port.
The scheme will work on a grants basis where landlords, organisations and businesses can apply for money to restore and repair their buildings.
"These grants are good for business," said Mr James, a county council cabinet member.
"They can improve access to shops and make a major difference to the overall environment of the area."
The hope is also to see vacant floor space put back into public use and to organise local history projects in schools and offer work experience for heritage building skills.