Gloucester congested roundabouts plans go on display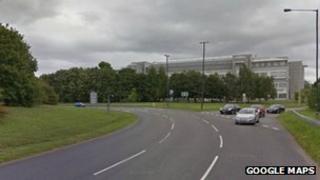 Planned changes to two busy Gloucester roundabouts are going on display to the public.
More than £3m will be spent on works to widen both the C&G and Walls roundabouts and install "intelligent" traffic lights.
Will Windsor-Clive, cabinet member for planning and infrastructure at Gloucestershire County Council, said it would help alleviate congestion.
The plans will be displayed at Sainsbury's, in Barnwood, at lunchtime.
At peak times it can take longer than an hour to get out of the supermarket onto the C&G roundabout.
Congestion has also increased since several hundred people began working in Barnett Way, a council report said.
'Speed up traffic'
The Department of Transport approved the council's bid for £2.17m of funding to tackle congestion on the A38 and A417 in May.
The balance will be shared between the council and Sainsbury's.
Mr Windsor-Clive said: "We have a problem with the quantity of traffic going through there and it will speed up the traffic."
Vernon Smith, cabinet member for highways, said: "I know there will be questions about how the works will be managed.
"We will be appointing the contractor in January 2014 and will be working with them as a priority to see how we can keep disruption to a minimum."
Work is due to start in spring 2014 and expected to be completed by the end of that year.
The plans will be on display from 11:00 to 14:00 BST.