Access-to-drugs campaigner Les Halpin dies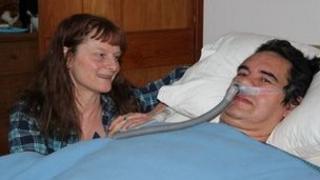 A man with motor neurone disease (MND) who campaigned for patients to be given access to experimental drugs has died.
Les Halpin, 56, from Tetbury, was diagnosed with MND in May 2011.
In April he launched a campaign for terminally ill patients to be allowed to join drug trials in return for waiving their rights to sue if there were side effects.
In a statement, his family said it was his "clear wish" that his Access to Medicine campaign should continue.
MND is a disease that attacks the nerves in the brain and spinal cord.
'Campaign should continue'
Paying tribute to her husband, Claire Halpin said he "knew he would not benefit from anything the campaign could change in his lifetime".
"But he did know that he could put what time and energy he had left into an initiative that could be life changing for future generations," she said.
The campaign was supported by Geoffrey Clifton-Brown, Conservative MP for The Cotswolds, who took the matter to the Houses of Parliament.
"His instructions to me and fellow campaigners the last time I saw him was that the campaign should continue," Mr Clifton-Brown said.
"He was very clear to the end about what he had set out to achieve and how we are going to make that happen.
"We are all committed to seeing the Halpin Protocol implemented so that people who are suffering from illnesses similar to Les will have a better chance in the future than he did because of lack of development into suitable drugs."