Fairford river skull 'more than 1,000 years old'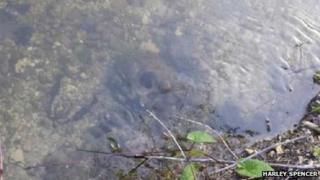 Human remains found in a shallow river in Gloucestershire are more than 1,000 years old, police have said.
A forensic anthropologist was asked to test a skull and a second bone which had been found in July by two teenagers playing in the River Coln at Fairford.
Experts say the remains are those of a Sub-Saharan African woman and date from between 896 AD and 1025 AD.
Gloucestershire Police said the remains would be passed on to a university or museum as it was not a police matter.
At the time of the discovery, the force said a Roman cemetery had been found near to the site which could explain the findings.
One of the boys who made the discovery, Christian, said: "I thought someone had got murdered and dumped in here, but then the police rang up said it was 700 years-plus old, so I wasn't really worried then."
The River Coln rises near Brockhampton, east of Cheltenham, and flows south-east into the River Thames at Lechlade, some 20m (32km) away.