Gloucester Cathedral publishes its vision for next five years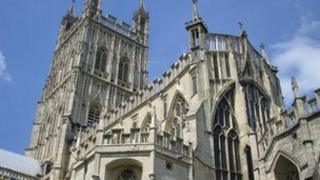 Gloucester Cathedral has outlined its vision for the next five years.
The key findings include doing more to connect with people in the city and improving its infrastructure to support its growing ambitions.
The document said the cathedral's weaknesses included being perceived as "diffident" and that its user base was "largely white and middle class".
The plans are laid out in a 31-page document entitled " In Tune With Heaven, In Touch With Daily Life".
The Very Reverend Stephen Lake said: "I think it is about being bold.
"The particular challenge in this city is that there can sometimes be a lack of confidence - when we have got so much to be proud of here.
"I think the cathedral can play a vital role in encouraging that sense of confidence. We can make sure that people feel welcome.
"We can make sure that people feel this belongs to them - we talk about 'your cathedral' and that breaks down barriers."