Roadworks on A46 near Nailsworth 'will force pub to close'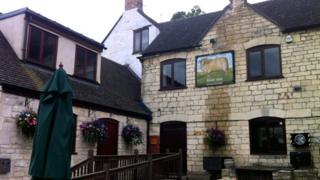 A landlord in Gloucestershire claims roadworks taking place near his pub will force him out of business.
Phil McAsey, who runs the Ram Inn at South Woodchester, said the closure of the A46 for six consecutive Sundays will force him to close.
Mr McAsey said one third of his weekly trade was on Sundays - and he was not given enough notice about the closure.
Gloucestershire County Council said the work was essential and disruption would be "kept to a minimum".
Mr McAsey said the roadworks, between Stroud and Nailsworth, will block access to the pub from the north "except by a six-mile complicated detour".
Motorists approaching from the south will have to take a "confusing route", he added.
Mr McAsey said the financial affairs of the pub were "so precarious" that he would be forced to close the pub permanently from this Saturday night and put it up for sale.
"My Sunday trade is what keeps the pub going," he said.
Residents 'warned'
Mr McAsey claimed he only found out about the closure four days ago.
A county council spokesperson said signs warning of the road closure were put up on 2 September, and local residents directly affected have been sent letters about it.
The spokesperson added that extra signs would be erected explaining that access is still available for light vehicles using local routes.
The work, to repair potholes, will begin on Sunday 15 September and continue until Sunday 20 October.
"A closure is needed so improvements can be completed quickly and safely, and the road will be closed from 8am to 5pm when highway crews are on site," the spokesperson added.
A meeting between Mr McAsey, Gloucestershire Highways and locals was due to take place on Wednesday.