Redbrook Bridge conservation on River Wye could cost cost £900,000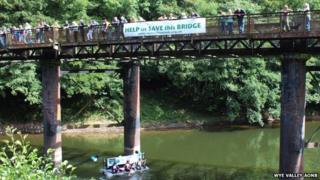 Repair work to save an historical bridge over the River Wye could cost up to £900,000, campaigners have said.
Redbrook Bridge, also known as Penallt Viaduct, was last used by freight trains in 1964 and is now derelict.
Supporters are to apply for Heritage Lottery funding to pay for its conservation.
As part of the project, a new deck would be installed to allow pedestrians, cyclists and horses to cross the river.
Wye Valley Area Of Natural Beauty development officer Andrew Nixon said the total cost of the project would be at least £600,000 and could rise to about £900,000 if the bridge was repainted.
"We want to enhance it and realise its potential," he said.
A bid for Heritage Lottery funding would be submitted in mid-October, he added.
Redbrook Bridge was built in 1876 and was in operation carrying rail passenger trains until 1959 and freight until 1964.
The bridge, which is Grade II listed, is now used as a crossing for walkers between the Forest of Dean in Gloucestershire and Penallt in Monmouthshire, although the original bridge deck is missing.
A survey to examine the bridge's condition was carried out last December.
Since then a public consultation has been taking place to establish how it should be preserved.