Former GCHQ director Sir Arthur Bonsall: 'We didn't exist'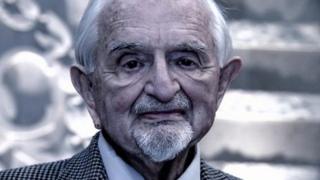 It is not so many years ago that the very existence of GCHQ was a closely-guarded secret.
But a former director has given his first interview to the BBC's Inside Out West, as the UK intelligence service strives to be more open.
Sir Arthur Bonsall lived a life in the shadows for almost 40 years and said it is still a shock when he sees "GCHQ" as the destination on the front of buses.
He said the service's new, imposing building in Cheltenham was "very impressive, but very unlike what it used to be at one time, this organisation where we were hiding".
No longer in "hiding", GCHQ has been making - sometimes controversial - headlines recently.
In June the Guardian reported that the agency was tapping fibre-optic cables that carry global communications and sharing vast amounts of data with the NSA, its US counterpart.
The paper revealed it had obtained documents from Edward Snowden showing that the GCHQ operation, codenamed Tempora, had been running for 18 months.
In 2011, it launched a code-cracking competition on social media sites to help attract new talent.
'No explanation'
Sir Arthur was recruited to the government's secret code breaking service in 1939 - in a very different manner to today's recruitment drives - to undertake confidential war work at Bletchley Park.
The Army had turned him down on health grounds, but Britain needed linguists.
An agent from the government's secret code and cypher school recognised his language skills and sent him an invitation.
"I had no idea why I had been invited," he said.
"There were two men present there, they weren't introduced, and all they said, virtually, was was I interested in confidential war work.
"I was at a loose end not knowing what I was going to be doing. I immediately said 'yes' and they indicated that I would be hearing from them.
"I had no idea what the work of Bletchley Park was and he said 'you're going to be working on the communications of the German air force'.
"I did that for several weeks with no explanation what all this was for."
Sir Arthur said he was decoding messages broadcast by the German air force giving the landing conditions at the air fields they were using or might use in Western Europe.
"We found it quite easy to solve the map grids and the code words gave us no trouble at all," he said.
The information he gathered proved vital in the fight against the Luftwaffe.
New threats
But Bletchley Park is most famous for its role in helping to crack the Nazi Enigma code, although Sir Arthur said that work did not steal the limelight at the time.
"What it stole were resources," he said.
"The Enigma work was the most important, clearly, and therefore quite rightly had priority.
"We were always shorthanded, we never had anything like enough people to do the work properly or without lots of voluntary overtime and so on."
New threats and new enemies after the war meant Sir Arthur was relocated to GCHQ which was still a deniable service.
"The government did what it could to avoid any reference to it," he said. "Policy was if they were asked a question about it no answer was ever given."
In 1973 he became the sixth director of GCHQ and remained in the role for five years.
"In those days one didn't apply for a promotion, one hoped for a recommendation," he said.
"I was recommended by my predecessor Joe Hooper. In a sense it was what I had been hoping for for some time."
One of the current Director Generals, who was recruited when Sir Arthur was in charge and did not want to be identified, said there were similar pressures today as back then.
"It's really quite interesting here today where we really struggle with the pace of developments and the need for constant innovation constant reinvention and constant pressure for operational work, yet what you (Sir Arthur) made clear to all of us at the time, 50 or 60 years ago, was it was just the same," he said.
The new era of increased openness arrived with the opening of the new offices in 2003.
"Up until then I really hadn't said anything about my own work to members of my family and I had a sort of way of answering which told them nothing at all," said Sir Arthur, who has been retired for 30 years.
"Grandchildren now had authority to ask me what I was doing so I began to have to try and remember what I did do during the war. That was quite a big change."
Inside Out is broadcast on BBC One West and West Midlands at 19:30 BST on Monday, 9 September and nationwide on the iPlayer for seven days thereafter.