Dean Heritage Centre has new waterwheel installed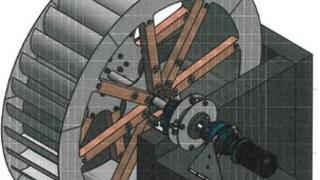 A £25,000 waterwheel is being installed at a Gloucestershire museum as part of a hydroelectricity project.
The wheel will be installed at the Dean Heritage Centre and has been part-funded by the Big Lottery Fund.
The centre uses between £12,000 and £18,000 a year in electricity, with the wheel expected to generate about £7,000-worth of electricity a year.
The aim is to get the wheel operational by the end of the week. It will be used for school trips.
The project received £10,000 from the lottery fund, £5,000 from the Royal Forest of Dean Rotary Club, as well as backing from other businesses and the Forest of Dean District Council.
The centre will be closed on Monday while the work is being carried out.