Cattle die in Stroud Commons car crashes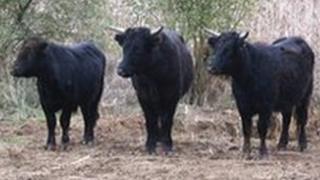 Six black cattle have been killed in collisions with cars on a National Trust site.
The trust said it feared that as the evenings got darker it would be even harder for drivers on the Stroud Commons to see the livestock and there could be further incidents.
It said the number of cattle deaths between mid-May and the end of July was an unusually high for summer.
No humans were seriously injured in the crashes.
Several cars have been written off or seriously damaged in the crashes.
Cattle that graze on the site include Dexters, Aberdeen Angus cross-breeds and Hereford cross-friesians.
Mark Dawkins, from the commons, said because the cattle were black they were difficult to see on darker nights.
The cattle graze on the commons until the end of October.
'Real concern'
The worst areas for accidents have been by Gates Quarry and between Tom Longs Post and the Minchinhampton sign.
Currently there are 11 graziers who exercise their ancient right to graze their cattle on Minchinhampton and Rodborough Commons, known collectively as Stroud Commons.
As a result there are normally about 550 cattle grazing at any one time on the grassy land.
David Armstrong, head ranger for the National Trust, said: "The safety on the commons is a real concern to us and the graziers.
"We want to do what we can to make motorists aware that they may encounter cattle anywhere on the unfenced sections of the road."
Both the graziers and the National Trust are working with the local council's highways department to install signs to warn motorists.