Cheltenham councillors approve 33,000 homes proposal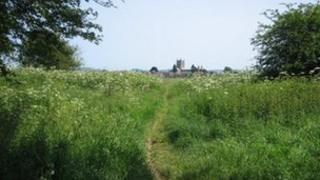 Proposals by three Gloucestershire councils to build 33,000 new homes over 20 years have overcome a second hurdle.
The Joint Core Strategy is looking at where to build the homes across Cheltenham, Gloucester and Tewkesbury.
Cheltenham Borough Council gave its support to the strategy by 20 votes to 13 on Thursday night.
Campaigners against the plan say it will ruin the countryside - especially if homes get built at Swindon Village, Leckhampton and Up Hatherley.
The scheme has already been given the go-ahead in Tewkesbury. Gloucester councillors will examine the plans next week.
'Objectively assessed need'
The government will make the final decision in July next year, with the plan due to be adopted in August.
Steve Jordan, the Liberal Democrat leader of Cheltenham council, said: "It's clearly an extremely difficult position because, in Cheltenham's case, we know we have a need for more housing.
"We need to make sure our young people have somewhere to live in the future.
"But equally, we are surrounded by beautiful countryside, Areas of Outstanding Natural Beauty and greenbelt, which are valued by people."
He said: "Under government rules we have to work out this thing called the 'objectively assessed need' which is where the 33,000 houses come in.
"My view is that may be questionable.
"If you take that number you then have to work out how you meet that need which is where this extension into the greenbelt comes in."
Helen Wells, from Save the Countryside, said the strategy would "wipe out a huge amount of greenbelt land".
She said: "Forty per cent of the land they want to put forward for building for the next 20 years is greenbelt land.
"We know we need houses, absolutely, and we need low cost and social houses desperately.
"What we don't need is the huge numbers that the Joint Core Strategy team are proposing."