Free school opens in Forest of Dean as surplus exists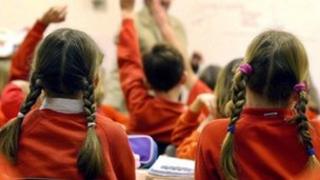 A free school has been criticised for opening in Gloucestershire when primary school place are already under capacity.
NASUWT, a teaching union, has claimed there is a surplus of primary places in Gloucestershire which are "not needed".
Gloucestershire County Council figures show primary school places were at 91% capacity this academic year.
St Anthony's in Cinderford has said it will offer a first-class education open to the whole community.
Teacher and school governor, John Rowlands, said: "We will be delivering the national curriculum but we are at liberty to achieve the results in a way which we see fit.
"We are not as tied as other schools are to the diktats of shire hall."
Desperate need
The school used to operate on a fee-paying basis but has converted to free school status in time for the new academic year.
Martin Menear, from the union, said: "What we don't need in Gloucestershire is more primary school places funded by the state.
"Over half of local education areas desperately need new primary school provision so that pupils in [those] places can receive the primary school education they need.
"Instead, we're spending a lot of money providing primary places by the state where they're not required," added Mr Menear.
Free schools are state-funded and independent of local authority control.
They have the freedom to decide the length of school day and term, the curriculum, teacher pay and how they spend their budgets.
98% prediction
Analysis of government data from 2012 by the Local Government Association (LGA) has found some local areas will face a 20% shortfall in primary places by 2015.
According to the LGA, the squeeze on places was first due to rising birth rates but uncertainty over funds has made it worse.
Figures from Gloucestershire County Council show capacity for primary school places is 46,760 in the county.
In 2011-12, capacity was at 90%, and this year it is running at 91% (42,544 places filled).
Their forecasts also show capacity will eventually reach 98% (46,044) in 2016-17.