Stroud 18-year development plan open to final comments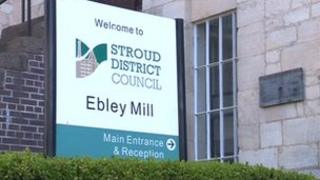 A draft plan to create up to 6,200 new jobs and build 2,450 new homes in the Stroud district is open for comment.
The final consultation on the 18-year Stroud District Local Plan will last for six weeks before being submitted to the government for final approval.
Regenerating parts of Stroud, Dursley, Stonehouse and Sharpness Docks are included in the details.
Council leader Geoff Wheeler said the ambition was to deliver two new jobs for every new home identified.
'Smaller settlements'
The authority agreed to the proposals in July and is now inviting comments which will be submitted to the government as part of its examination.
Some 500 new homes are being earmarked for the Hunts Grove area, south of Gloucester, as well as 450 homes for North East Cam and 300 at Sharpness.
The council is also proposing to redevelop land for commercial use at Sharpness, Quedgeley East, North East Cam and Stonehouse.
Mr Wheeler added: "As well as development at the key sites, the plan also has the flexibility to allow smaller-scale development within smaller settlements to meet local needs as long as this accords with local policies and with future neighbourhood plans.
"Such local developments could account for 750 homes over the period."