Badger cull: An evening spent with Gloucestershire campaigners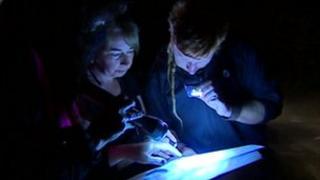 The second stage of the pilot badger cull is believed to have begun in Gloucestershire overnight.
More than 100 protestors, who consider the operation inhumane and ineffective, gathered at sites around the county's cull zone aiming to disrupt any shooting they discovered. The BBC's Steve Knibbs spent the evening with them.
As dusk fell, teams started to head out as calls from the observers came in. But when they turned up, there were no signs of any marksmen.
We followed one group who were told a vehicle had been patrolling near to a badger sett that had been pre-baited - a tactic to encourage the badgers to come out into the open.
Once again, no sign of anything, but some campaigners decided to stay and guard the sett.
We checked a few reports that shooting had been happening but did not find any evidence.
For those protestors it was a frustrating time.
Drew Pratten, an anti-cull campaigner, said he would wait for a call from an observation post before reacting and moving to that place as quickly as possible.
"We'll never know whether we stopped them shooting by getting there, or if they weren't shooting at all," he said.
The protestors say they are ready to be out for the next six weeks.
Gloucestershire Police met the group, offering reassurance that they were there only in order to keep the peace and giving reminders about the public's right to protest peacefully.
The company running the badger cull wants it to happen in secret, but campaigners say they will spend the next 41 nights trying to expose and stop it.