Second badger cull in Gloucestershire expected to begin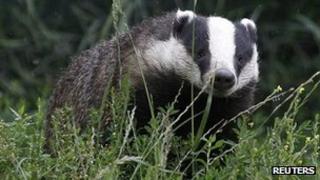 A trial cull of thousands of badgers in Gloucestershire is expected to begin later - a week after the first pilot cull began in Somerset.
About 5,000 badgers are expected to be killed in controlled shootings by trained marksmen over six weeks.
Gloucestershire Police said their badger cull policing operation would be in effect from 20:00 BST to deal with any potential disruption.
Anti-cull protesters say they plan to disrupt the shootings.
Drew Pratten, from Stop the Cull, said there were 30 people sitting on Tuesday evening in observation points watching setts "with 100 people mobile and ready to move with more people coming down".
He said the group was confident it could prevent the cull taking place.
"We're as ready as we will ever be to stop it by getting between the setts and the pre-baiters," he added.
The badger cull is aimed at tackling bovine TB but many opponents say it is unnecessary.
A police spokesman said the cull was a Department for Environment Food and Rural Affairs (Defra) policy that was being implemented by private companies under licence by Natural England.
The National Farmers' Union (NFU) would not confirm if the cull was starting and said it would not comment on operational procedures.
'Fair to everyone'
Initially the pilot will not examine how successful culling has been in reducing the spread of TB to livestock.
Instead, it will test whether the cull can be carried out "effectively, humanely and safely".
No-one involved in the cull will say how many badgers have so far been shot or killed.
A Defra spokesman said: "It's a decision for the cull companies to start. There will be no more operational details from them until after the cull has started. They haven't specified locations."
A police spokesman said: "Our role will be operationally independent, impartial, even-handed and fair to everyone whatever their views, interest or involvement in the pilot scheme."
Tony Dean, chairman of the Gloucestershire Badger Group, said: "I have been told from a very good source that it would be tonight.
"We'll just have to wait and see but I'm sure there will be plenty of people out there.
"I don't think they'll shoot as many badgers as they say they will shoot.
"They've started in Somerset and Defra say they are having 'good results' but no one is coming out with any figures."
Mr Dean, a retired police officer from Stroud, said he took people out badger watching and hosted talks but would not be actively involved in opposing the cull.
The government has said the cull is necessary and could make a meaningful contribution to controlling TB in cattle.
Campaigners have fought the plans since the test areas were revealed last year. They argue a cull is inhumane and ineffective in controlling the disease.