Railings to return to Cheltenham Imperial Gardens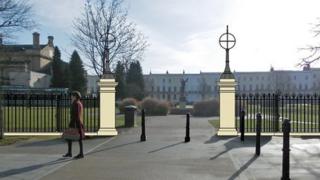 Railings are to be reinstated at Cheltenham's Imperial Gardens after more than 70 years.
The original railings were removed in 1940 and recycled for armaments as part of the war effort.
The new structure will be based on the original, but not as high and with more entrances "to retain the open feel of the gardens", the borough council said.
The £500,000 for the project has been raised by Friends of Imperial Square, Heritage and Conservation (Fishac).
The council will use that money to begin construction.
Bob Keevil, from Fishac, said the railings would "enhance the Regency heritage which attracts so much tourism and business to Cheltenham".
He added: "It also complements the reinstatement of the railings alongside Montpellier Gardens, the restoration of Pittville Gates and other private initiatives to restore railings and architectural features around the town."
Councillor Roger Whyborn, cabinet member for sustainability, said: "Imperial Gardens are well-used and well-loved by the town's people and visitors."
Improvements were carried out in the gardens last year to accommodate the increasing size of festivals held there.