Petition against Cheltenham traffic route plan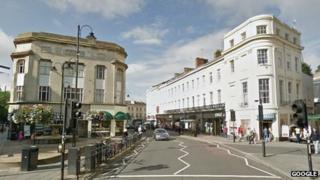 More than 1,000 people have signed a petition against major changes to the route of traffic in Cheltenham.
Cheltenham Borough Council wants to partially close Boots Corner to traffic, and restore part of the town's one-way system back to two-way traffic.
It said the changes will make it easier for people to walk, cycle and use public transport in the town centre.
But some residents claim it will push traffic into nearby residential streets.
"I think in principle we all support the idea of developing Cheltenham into a more prosperous, more efficient, better town, and a nice place to live," said resident John Firth.
"Part of the reason given for this development is to reduce traffic, but in fact all it's doing is reducing traffic in the centre by moving it out to the edges."
'Pinch points'
As part of the Cheltenham Transport Plan, two-way traffic would be allowed in Imperial Square, Oriel Road and parts of Albion Street and Clarence Street, roads which are currently part of the one-way system.
Also, traffic on the road passing Boots Corner would be restricted to buses and bikes only.
Cheltenham Chamber of Commerce said it supported the plans in principal, but chief executive Michael Ratcliffe said they were concerned about a number of local "road pinch points".
"There are several locations - not least High Street and Winchcombe Street junction, Rodney Road junction, Montpelier - these are routes people will need to use once Boots Corner has been closed," he said.
"We feel that we want to make as certain as possible that all obstructions have been considered and removed."
Gloucestershire Highways said it was pleased to have the support of the Chamber of Commence and was working to alleviate any concerns.
A two-month consultation into the plans - which have been drawn up by the borough council and Gloucestershire County Council - ends later.
The project would be funded through money already raised through government grants and the sale of council land.