Gloucester Antiques Centre saved by Gloucester Quays owners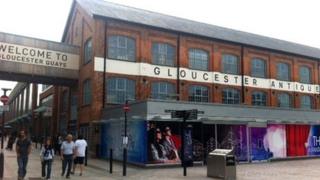 Gloucester Antiques Centre, which recently closed because of "low trade levels", is to reopen.
The previous tenant of the site, Evan Maindonald, said it was not making enough money to pay the rent.
Mr Maindonald added lower-than-promised footfall levels had contributed to the closure of the site which is home to some 80 antique dealers.
But Peel Holdings, which owns Gloucester Quays, said it would now open again under its direct management.
The Antique Centre first opened in 1978 and moved to the current quays site in 2009.