Leckhampton Hill paraglider rescued from cliff crash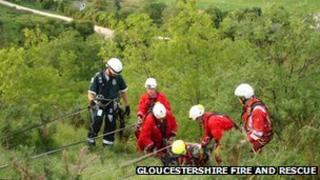 A paraglider who crashed into a cliff near Cheltenham was hauled to safety in what emergency services described as a "complex rescue".
The rescue team, which included fire and paramedic crews, abseiled to the man and used ropes to pull him up the side of the cliff in the Leckhampton Hill area.
The paraglider was taken to hospital by air ambulance following the crash on Tuesday afternoon.
His condition is not known.