Chedworth Roman Villa mosaics uncovered for study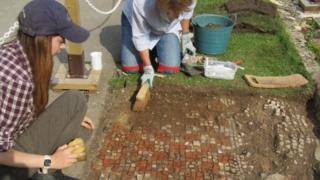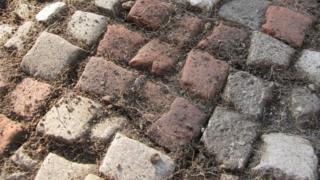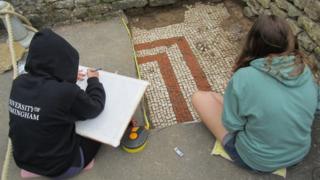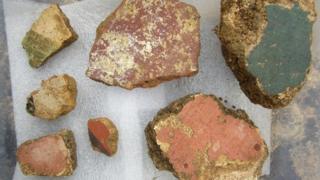 Two Roman mosaics have been uncovered by a team of National Trust archaeologists at Chedworth Villa.
The mosaics - on the north side of the villa near the Bath House - are being studied before being covered up again at the end of the week.
"It is wonderful to see something so rare being uncovered," said Alex Auden, operations manager of the villa.
The study aims to discover what Roman remains have survived and what will need to be done to protect them.
The mosaics, which were first uncovered more than 50 years ago, may be put on more permanent display in future if a building is put up to protect them.
Records from the original excavation have not survived so archaeologists are investigating again.
'Extensive and interesting'
The first mosaic was covered by a path which provided it with protection, whereas the second was under a thin layer of turf.
"One of the mosaics uncovered is in beautiful condition while the other has been damaged by grass roots, but is still impressively intact," said Ms Auden.
"The grass roots and weeds such as dandelions have got in between the mosaic tiles and water has leached through the turf, washing away the lime mortar which holds the mosaic together."
Last year a new conservation building was opened over other mosaics on the west range of the villa.
The current excavations are being directed by National Trust archaeologist Dr Martin Papworth and advised by Prof Simon Esmonde-Cleary and Prof Peter Salway.
"We know this area was dug just over 50 years ago but records haven't survived," said Dr Papworth.
"We believe the mosaics and remains on the north range are at least as extensive and interesting as those now protected by the new west range building.
"If we are able to build another cover building, these digs will show exactly where to place it and how big it would need to be."